Announcements
New members! Add yourself to our Members Only Facebook Group! https://www.facebook.com/groups/sparkcrossfitmembers/
Spark CrossFit – CrossFit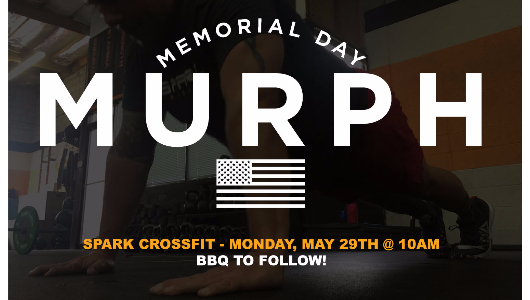 Warm-up
Warm-up Rope & Mountain Climbers (No Measure)
5 Rounds
20 seconds Single Unders
10 seconds rest
20 seconds of Mountain Climbers
10 seconds rest
We will intend for this day to be a laid back open gym style format. Warm-up as needed before starting. A simple option would be:
Transition (No Measure)
Get setup and finalize scaling options
2 Rounds
200 meter easy jog
10 Pass throughs
3 Pull-ups
6 Push-ups
9 Squats
Workout
Murph (Time)
For Time:
1-Mile Run
100 Pull-ups
200 Push-ups
300 Air Squats
1-Mile Run
If you have a 20# vest or body armor, wear it.
In honor of Navy Lieutenant Michael Murphy, 29, of Patchogue, NY, who was killed in Afghanistan June 28th, 2005.
To learn more about Murph click here
ladies vest weight is 14#
No vest: scaled
Vest with partitioning: RX
Vest Straight through: RX+
If you go straight through note "RX+" in comments.
Scaling Options (No Measure)
Mini Murph below without vest
Mini-Murph (Time)
800 m Run
50 Pull Ups
100 Push Ups
150 Air Squats
800m Run