Spark CrossFit – CrossFit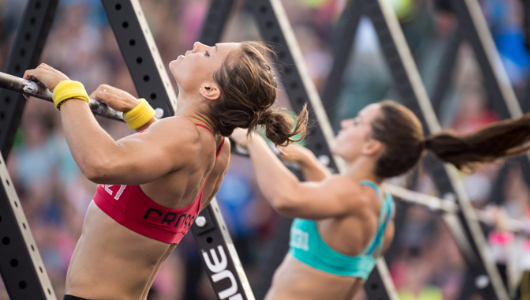 "Life can only be understood backwards; but it must be lived forwards". – Soren Kierkegaard
Partner Rowling Warm-Up (No Measure)
1000 meters for time split between two partners. 5 rounds each on the rower, looking to land exactly on 100 meter intervals until the screen says 1000 meters. There will be a penalty for the partner who gets off the rower for every meter they are under or over the 100 meter interval. For example, if they land at 97 or 103, penalty is 3 burpees. Partner getting on the rower must wait until their partner completing the penalty is finished before they begin rowing. They can sit ready on the erg as they wait.
followed by…
45 Seconds
Partners Alternating Movements
Easy Bike
Active Spidermans
30 Seconds
Medium Bike
Active Samson
15 Seconds
Faster Bike
Push-ups to Down Dog
Mobility (No Measure)
Childs Pose – 1 Minute
Relaxing as much as possible and focusing on breathing will deepen the stretch.
Teaching (No Measure)
Toes – Hips
In order to stay in a solid hollow position during the pull-ups, we want athletes leading their way up towards the bar with the toes first. It is commonly seen that the lower half of the legs stays behind the body as athletes leads with the hips. Athletes will feel significantly heavier in this position. The tighter you stay, the less you weight. Making a kicking motion with the feel press tightly together before popping the hip will help athletes find the weightless moment we are looking for.
Transition & Setup (No Measure)
Partner 1
5 Calorie Bike or row
4 Burpee box jump overs
3 Pull-ups
then
Partner 2
5 Calorie Bike or row
4 Burpee box jump overs
3 Pull-ups
CLASS: "Friend Zone" (AMRAP – Rounds and Reps)
Teams of 2
Partners alternate complete rounds for as many as possible in 20 minutes of:
12/9 Assault Bike or 15/12 Row Cals
9 Burpee Box Jump Overs (24/20)
6 Pull-ups
*Partners alternate complete rounds. Assault bikes are priority on this workout, once all Assault bikes are taken then teams can choose to row.
RX+ Assault Bike & Strict Pull ups
Competitor Extra – before or after class WOD
COMP: Metcon (Time)
5 Rounds:
60 Seconds Light Row
40% of Max Kipping Handstand Push-ups
COMP: Clean + Jerk Complex (On the Minute x 9 (3 Rounds) )
Hang Squat Clean + Squat Clean + Split Jerk
Minute 1 – 73%
Minute 2 – 78%
Minute 3 – 83%
Rest 2:00
On the Minute x 3 (1 Round)
Squat Clean + Split Jerk
84 – 86 – 88%