Spark CrossFit – CrossFit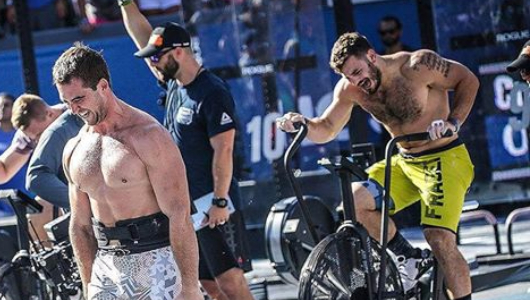 Warm Up and Skill
Warm-up (No Measure)
GENERAL WARM-UP (0:00-8:00)

1) Joint Prep Routine
TRANSITION AND SET-UP (8:00-15:00)

Coach will go over the flow of the workout with the class as well as the movement standards. Partner up, set-up, and get ready to go.
*There is not much of a warm-up due the length of the workout today.
Workout
Metcon (4 Rounds for reps)
(15:00-55:00)
INTENDED STIMULUS

This is a simple and long "sweatfest" session today. Score individually as a total of all reps you completed at each station

-total number of laps run

-total number of cals

-total number of burpees

-total number of jump rope reps
With a 40 Minute clock, In teams of 4:
*The runner is the "pace setter". When the run is completed rotate to the next movement.
Advanced (RX+)

Partner 1- Run 400 meters

Partner 2- Assault Bike Cals

Partner 3- Burpee with a jump to a 6″ target

Partner 4- Max Rep Double Unders
RX

Partner 1- Run 400 meters

Partner 2- Row max cals

Partner 3- Burpee with a jump to a 6″ target

Partner 4- Max Rep Jump Rope Single Unders
Novice/Scaled

Run 200 meters

Row Calories

Burpees (no target)

Single unders while their partner is running
Cool Down
Cool Down (No Measure)
55:00-60:00

KB Calf Smash, 90 seconds per side

Banded hamstring stretch x 90 each side