Spark CrossFit – CrossFit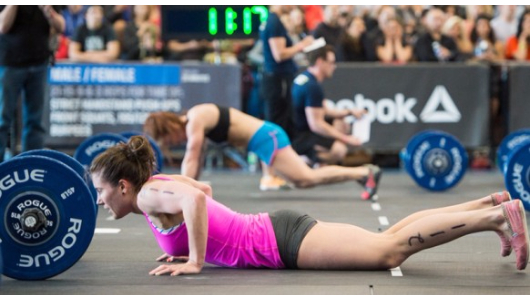 Warm Up and Skill
Warm-up (No Measure)
GENERAL WARM-UP (0:00-18:00)
1) EMOM 9 Minutes
Min 1: Row, Bike, or Jog
Min 2: 12 Band Pull Aparts
8 Push-ups
Min 3: 12 V-ups
8 Air Squats
2) Stretch
Partner shoulder stretch on rig, 60 seconds
Heel Toe Hamstring Stretch, 60 seconds/side
(https://youtu.be/nydDJSuwFwM )
SKILL AND INSTRUCTION (18:00-23:00)
1) Overhead Squat Progression (https://youtu.be/yHozWJdcf10 )
-10 Pass Throughs
-5-7 1/4 OHS
-7-10 Full Movement
TRANSITION (23:00-30:00)
Cover the intended time goals and scaling options for the workout. Then:
2 Rounds
3 Burpees
3 OHS (increase loading each round)
Workout
Metcon (Time)
(30:00-40:00)
30-20-10
Burpees
Overhead Squat (95/65)
(10:00 time cap)
INTENDED STIMULUS
Sub 10 minute and light weight conditioning workout.
Scaling Options (No Measure)
1) Intermediate
Attempt this workout as written. If the athlete struggles with Overhead Squats scale to:
30-20-10
Burpee
Overhead Squat (65-75/45-55)
2) Novice
21-15-9
Burpee
Overhead Squat (light weight)
Strength Work
Weighted Pull-ups (5 sets 3 Weighted Strict Pull-ups)
SCALING OPTIONS
Scale to 3-5 un-weighted Strict Pull-ups or 3 Negative Pull-ups with a 3-5 second lowering phase.
Cool Down
Cool Down (No Measure)
Band Shoulder Stretch, 90 seconds per side