Spark CrossFit – CrossFit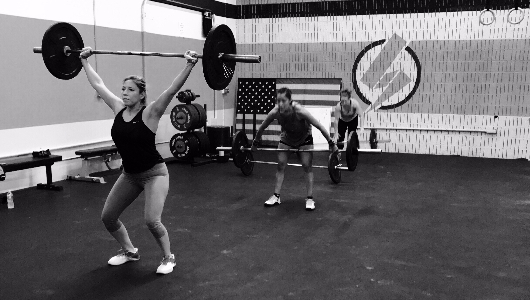 "Success does not consist in never making blunders, but in never making the same one a second time." – Josh Billings
Class WOD
Joint Prep Warm up (No Measure)
10 x each
-Neck right & left
-Neck up & down
-Neck crescent
-forward shoulder rolls
-backward shoulder rolls
-arm circles forward (getting bigger)
-arm circles backward (getting bigger)
-crossbody hugs
-trunk twist
-hip circles
-knee circles
-ankle circles
-leg swings forward and back
-leg swings side to side
-air squats
Push Jerk Progression (No Measure)
1. Jump and Land (hands only)
2. Jump and Land with thumbs (hands only)
3. Jump-Punch-Land (hands only)
4. Push Jerk (w/ PVC)
Workout
CLASS: Jerk (10 Minutes to build up to heavy single)
Just a quick build up to a heavy single, not a max day, the goal today is consistancy and hitting all our attempts. Save the max for another day.
CLASS: "The Good Life" (Time)
Advanced (RX+)
3 Rounds:
30/21 Calorie Assault Bike
15 Burpee Box Jump Overs (24/20)
RX
3 Rounds:
500/400 Meter Row
12 Burpees
21 Box Jumps (24/20)
Scaled
Row 300/200
12 Burpees
21 Plate Jumps
INTENDED STIMULUS
Overarching goal today is to always be moving. To accomplish this, have athletes go slightly slower than they would if they were rowing a 2k for time.
Cool Down
3 Way banded Shoulder Cool Down (No Measure)
45 second for each arm for each position:
Lat Stretch
Front Rack Stretch
Cross-body Stretch
If time permits class with finish with rolling out glutes and lower back, if not, do this on your own after class today.
Competitor Extra – before or after class WOD
EXTRA: Clean and Jerk
70%/2
75%/2
80%/2
85%/1
90%/1
95%/1
EXTRA: Clean Pull ((110%/2)4)
EXTRA: Front Squat ((85%/4)5)