Spark CrossFit – CrossFit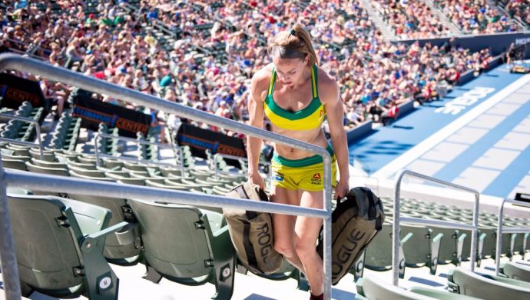 "The talent of success is nothing more than doing what you can do, well". – Henry W. Longfellow
Class WOD
Dynamic Mobility Warm-up (No Measure)
10 Rollover to V-Sit
10 Lying Leg Crossover (5/leg)
10 Lying Dynamic Hamstring
10 hamstring to sampson stretch (5/leg)
10 Scorpions (5/leg)
10 Kneeling Shoulder tap (5/side)
20 second dynamic calf stretch (per side)
10 Bootstrappers
Barbell Warmup (No Measure)
5 Good Mornings
5 Back Squats
5 Elbow Rotations
5 Strict Presses
5 Stiff-Legged Deadlifts
5 Thrusters
(completed with empty barbell)
Transition & Build Up (No Measure)
Coach will demo and discuss the points of performance for todays Front Squats.
-Stance & Grip
-Rack position/elbows
-torso angle
-target depth
After that, take 6-7 minutes to build up to today's working weight of 70% for 5 reps
Workout
CLASS: Front Squat (Every 2:30 for 3 sets: 5 Reps @ 70%)
Today we are going to build up and hit a moderatly heavy weight at 70%. Don't be surprised if its feeling easy after all the back squatting we have been doing but take it easy today and stick to 70% with great form.
Transition (No Measure)
Coach will demo and discuss Pull ups and C2B Pull-up points of performance
-standards for each movments
-the kip
-push away
-leg long
CLASS: "Satan's Whiskers" (C2B/FS/Bp) (Time)
3 Rounds for time of:
10 Pull-Ups
10 Front Squats
10 Burpees
(11:00 Time cap)
INTENDED STIMULUS
In today's triplet, intensity is the name of the game. Having the correct weight on the barbell and picking an appropriate gymnastics piece will allow each individual to hit the intended stimulus. First round should be unbroken without a doubt. On the Chest to Bar Pull-ups, athletes should also be able to complete 10 repetitions unbroken for RX+ if they needed to.
RX+ @ 165/110, C2B Pullups
RX @ 135/95
Scaled
Competitor Extra – before or after class WOD
EXTRA: Snatch ((75%/1) X 5 sets)
60%/2
65%/2
70%/2
(75%/1)5
EXTRA: Clean and Jerk ((75%/1) x 5 sets)
60%/2
65%/2
70%/2
(75%/1)5