Spark CrossFit – CrossFit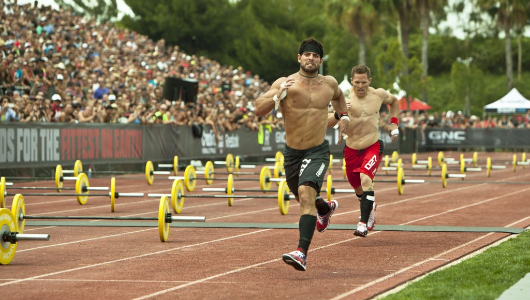 Warm Up and Skill
Warm-up (No Measure)
GENERAL WARM-UP (0:00-15:00)
1) Running Warm-up
2) Shoulder Prep Warm-up 1
10 Arm circles Front (start small and build to 10 full ROM)
10 Arm Circles Back (start small and build to 10 full ROM)
10 Side to Side Arm Swings
10 Criss Cross Arm Swings per side
10 Up and Back Arm Swings
5/5/5 PVC Pass Through (5 wide, 5 medium, 5 narrow)
10 Reverse Grip Pass Through
20 Band Pull aparts
15 Scap Retractions on Bar
15 Ring Rows
15 Box or Bench Dips
10 Beat Swings on Bar (go from small to big)
SKILL AND INSTRUCTION (15:00-22:00)
Hang Power Snatch Progression
*5-7 reps at each piece of the progression
**Upon completion of the progression grab and empty barbell and do 10 reps of the full movement.
TRANSITION AND SET-UP (22:00-30:00)
The build-up will be quick as the weight is light. Go over the time goals of the workout.
Workout
Monday 300417 Snatches & Run (Time)
2 Rounds
20 Hang Power Snatch (115/75)
800 meter Run
(15:00 time cap)
INTENDED STIMULUS
Moderate load hip extension focused movement that is intended to be a challenge unbroken combined with a medium duration run. Most of the time will be spent on the run today and faster athletes will be able to complete this workout in under 10 minutes. No one should go beyond 15 minutes.
Scaling Options (No Measure)
1) Intermediate
2 Rounds
Hang Power Snatch (115/75 for 60-90 seconds of attempting to complete 20 reps)
800 meter Run
*The goal is to keep the loading heavier vs always scaling load today. If needed, reduce weight to 95/65
2) Novice
2 Rounds
15 Hang Power Snatch (light load that can be done unbroken)
600 meter run/walk
Accessory Work
(45:00-60:00)
Accessory Work (No Measure)
Handstand Skill Work
Alternating three rounds of each
30 seconds Handstand Hold
30 seconds Wall Facing Tuck HS Hold
30 seconds rest
Novices can just work the HS hold or kick-ups.