Spark CrossFit – CrossFit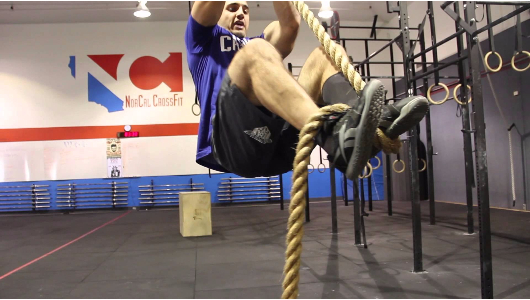 Warm Up and Skill
Warm-up (No Measure)
GENERAL WARM-UP (0:00-15:00)
1) Tabata Jump Rope Drill Set #1- 8 intervals.
1- Singles
2- Side to Side bunny hop
3- Alternating legs
4- In and out
5- High knee
6- Butt Kickers
7- Double Under
8- Double Under or Triple Under
*Go through the series 1 time. Spending 20 seconds at each movement and resting 10 seconds between movements
2) 2 Rounds
3/3 Turkish Get-ups
6 Medicine Ball Goblet Squats (stand arms length away from wall)
10 Light Single Arm OH Walking Lunge
30 second Hands on Box Shoulder Stretch
SKILL AND TRANSITION (15:00-30:00)
Coach will demonstrate the wraps for the rope climb and the scaling options for the movement. Allow time practice this movement during the the build up phase.
Complete:
3 Rounds
4 OH Lunge Steps (increase load each round)
10 Double Unders
4 Wall Ball
1 Rope Climb (do this only on the first round)
Workout
Regionals Workout #3 (Time)
2017 Regional Workout #3
100 Foot Single Arm OH Lunge (50/35 lb DB))
100 Double Unders
50 Wall Ball (20/14)
10 Rope Climbs (15 feet)
50 Wall Ball
100 Double Unders
100 Foot Single Arm OH Lunge
Time Cap: 20 minutes
RX+
@80 lb DB
Wall ball @30/20
INTENDED STIMULUS
Regional chipper workout that that is shoulder and leg intensive. We have extended the time cap to 20 min (from 16:00).
Scaling Options (No Measure)
SCALING OPTIONS
1) Intermediate
-Reduce Dumbell OH Lunge weight
-Reduce Wall balls to 25 each set
-Reduce Rope Climbs to 5
2) Novice
-Sub Goblet walking lunge with single KB or Front rack walking lunge with 2x DB's
-Ring rows or banded Pull-ups instead of rope climbs.
-single unders x 100 each set
Cool Down
Cool Down (No Measure)
Row or bike 3-5 minutes easy