Spark CrossFit – CrossFit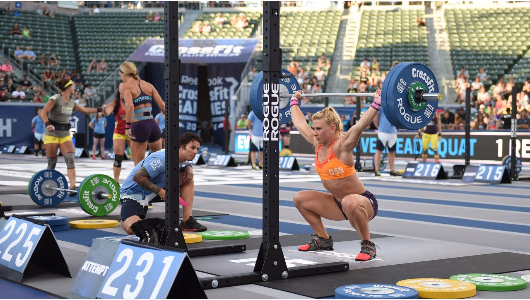 "I don't believe in failure. It's not failure if you enjoyed the process." – Oprah Winfrey
Competitor Extra – before or after class WOD
EXTRA: Snatch (3 Snatches, Every 3-4 minutes, for 7 sets)
60%/3

65%/3

70%/3

75%/3

(80%/3)3
EXTRA: Snatch Pull ((100%/3)4)
EXTRA: Muscle Ups (4 Rounds for reps)
Ring Muscle Ups:

4 sets x 60% unbroken

rest :60 between sets
*60% of max unbroken set
Class WOD
CLASS: Overhead Squat Warm up (No Measure)
GENERAL WARM-UP (0:00-10:00)

1) 2 Rounds

1 minute Row, bike, or Jump Rope

10 Spidermans

30 second Butchers Block Stretch

https://youtu.be/sv3hfROcz0A

10 Kip Swings

30 second Straight Arm Plank Hold
SKILL AND INSTRUCTION (10:00-15:00)

1) Overhead Squat Progression

https://youtu.be/yHozWJdcf10

*3-5 reps at each piece of the progression with PVC
CLASS: Transition & Build Up (No Measure)
(15:00-23:00)

Take 8 Minute to build up to 78% of 1RM for todays working sets. Newer memebers without maxes will build up to a challenging but doable set of 6 to do for all sets of todays strength work.
CLASS: Back Squat (Every 3:00 (78% x 6 reps) 5 sets)
(23:00-40:00)
INTENDED STIMULUS

Building squatting strength, 78% for 6 reps should be challenging and will build in difficulty as the volume builds but there should not be any risk of failing a set. Stay with the same weight for all 5 working sets.
CLASS: 71717 Row/KB/OHS (Time)
For Time:

21-15-9

Calorie Row (ladies 15-9-6)

Kettlebell Swings (53/35)

Overhead Squats

(12:00 time cap)
Advanced (RX+) @ (95/65) & Sub Kettlebell Snatches for swings
RX (75/55)
Novice/Scaled:

Reduce reps to 15-9-6 for all movements

Reduce KB Weight

Reduce OHS Squat Weight or sub front squat or goblet squat
* Partner up on rowers and have partner B start 15-30 seconds after partner A begins KB swings.
INTENDED STIMULUS

Sub 10:00 duration burner testing lower body and shoulder stamina. Position will be important on this workout, if you are in good position and can use your hips/legs to drive the overhead movements you'll be able to move effectively through this workout.
Cool Down
CLASS: Lower Body Cool Down (No Measure)
Couch x :60/side

Frog x :60

Forward Fold x :60

Foam Roll Hamstring & Quads x 90-120 Seconds
add on: 60 seconds each arm banded lat strength