Spark CrossFit – CrossFit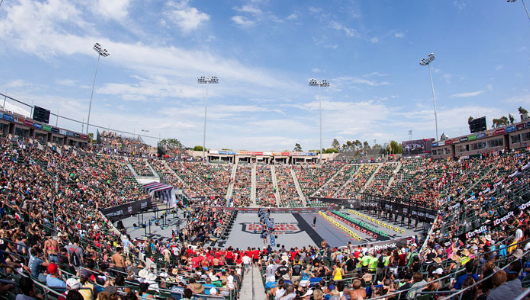 "Courage is being scared to death but saddling up anyway." – John Wayne
Class WOD
Snatch Warmup w/ Joint Prep (No Measure)
GENERAL WARM-UP (0:00-7:00)
1) Joint Prep Routine
SKILL AND INSTRUCTION (7:00-12:00)
2) Snatch Progression
3-5 reps at each piece of the progression as class
-Setup to knee
-knee to power position
-power position dip and shrug
-dip, shrug, high-pull
-muscle sntach
-snatch balance
-overhead squat
-full or power snatches from power position, knee, and mid-shin
Transition & Build Up (No Measure)
12:00-20:00
Take 6-8 Minutes to build up to todays working weight of 80% of 1RM or a challenging weight but doable weight for 5 reps.
Workout
CLASS: Back Squat (Every 3 Minutes for 5 sets: 5 reps @ 80%)
Same weight for all sets, should be a challenging but doable weight for all sets. No missed lifts today. Newer athletes can build up over the 5 sets to a challenging set of 5.
CLASS: Running Randy 73017 (Time)
5 Rounds for Time of:
400m Run
15 Power Snatches (75/55)
Advanced @ 95 lbs
RX @ As written
Scaled
-reduce run distance to 200m
-reduce snatch weight
-sub light KB swings for snatch
INTENDED STIMULUS
Very tight time cap today, faster times will be under 12 minutes today. Snatch weights are intended to be loads that can be done with good form in unbroken sets. Reduce run distance to maintain under 2:00 per run pace if needed. Score capped times as AMRAP.
Cool Down
Lower Body Cool Down (No Measure)
Couch x :60/side
Frog x :60
Forward Fold x :60
Foam Roll Hamstring & Quads x 90-120 Seconds
Competitor Extra – before or after class WOD
EXTRA: Snatch (Every 2-3 Minutes….)
60%/3
65%/2
70%/2
75%/2
80%/2
(85%/2)x 3 sets
EXTRA: Snatch Pull ((105%/3) X 4 sets)
EXTRA: Ring Muscle Ups (4 Rounds for reps)
3 sets at 80% of max unbroken set
rest :80 seconds between sets