Announcements [THE FOURTH] Holiday Hours – No 7:30pm class Monday night and only 9am class on Tuesday.
Spark CrossFit – CrossFit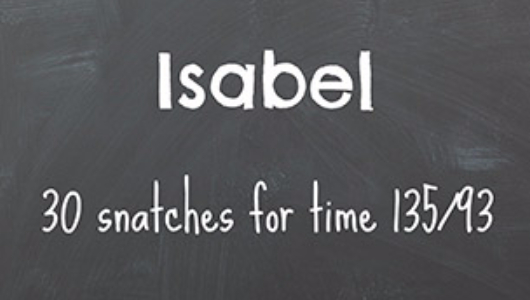 "Work gives you meaning and purpose and life is empty without it." – Stephen Hawking
Warm Up and Skill
Snatch Warmup w/ Joint Prep (No Measure)
GENERAL WARM-UP (0:00-10:00)

1) Tabata Jump Rope Drill Set #1- 8 intervals.

1- Singles

2- Side to Side bunny hop

3- Alternating legs

4- In and out

5- High knee

6- Butt Kickers

7- Double Under

8- Double Under or Triple Under
*Go through the series 1 time. Spending 20 seconds at each movement and resting 10 seconds between movements
2) Joint Prep Routine
SKILL AND INSTRUCTION (10:00-15:00)

3) Power Snatch Progression

*3-5 reps at each piece of the progression as class
TRANSITION AND BUILD UP

Build up to first working set @75% in 3-4 sets of 3-5 reps
Workout
Back Squat (Every 2:30 for 6 sets)
Follow this rep scheme today:

75%/5

80%/1

75%/5

83%/1

75%/5

85%/1
Isabel (Time)
For Time: 30 Snatches, 135# / 95#
(10:00 time cap)
INTENDED STIMULUS

Sub 5 min workout with high power output being expressed through ground to overhead. Faster time will under 3 minutes, athletes should scale to allow this workout to be done in under 8 minutes.
*Any type of snatch permitted (squat, power, muscle)
Cool Down
3 Way banded Shoulder Cool Down (No Measure)
45 second for each arm for each position:

Lat Stretch

Front Rack Stretch

Cross-body Stretch
If time permits class with finish with rolling out glutes and lower back, if not, do this on your own after class today.