Spark CrossFit – CrossFit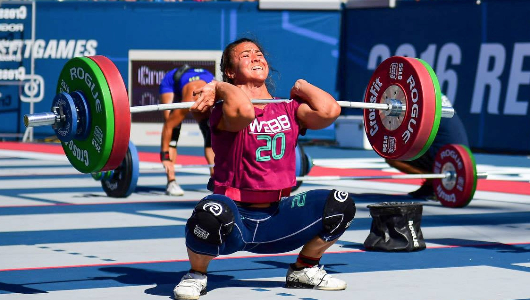 "People seldom improve when they have no other model but themselves to copy."– Oliver Goldsmith
Running / Dynamic / Front Squat Warm up (No Measure)
GENERAL WARM-UP (0:00-6:00)

1) Running Warm-up

https://youtu.be/CnsQkc2FU_Y
2) Dynamic Mobility

10/side Lying Dynamic Hamstring Stretch

10 Rollover V-Sits

10 Lying Leg Crossovers

10 Lateral Lunges
TRANSITION (10:00-14:00)

Coach will cover the Front Squat points of performance:

-unracking the barbell

-front rack position

-foot placement

-Weight in foot

-knee plane

-squat depth
CLASS: Paused Front Squat (Every Minute on the Minute for 7 Minutes)
Over the 7 sets build to today's heavy single with a 3 second pause
-Rest 3 Minutes then-
CLASS: Front Squat (Every Minute on the Minute for 5 Minutes)
Build up to today's heavy single over the five sets, you should be starting from your last paused rep here. We will be using both these maxes in the upcoming 6-8 week FS cycle.
If you are new to front squats, today you will build up to a heavy set of 3 on each lift.
CLASS: "Doubled Over" (AMRAP – Rounds and Reps)
RX

As Many Rounds as Possible in 6 MInutes:

10 Toes to Bar

30 Double Unders
-Rest 3 Minutes then-
AMRAP 6

Wall Balls (20/14)

*10 abmat Situps every time you rest/stop.
Scaled

-60 single unders

-situps for both A and B
INTENDED STIMULUS

The conditioning piece is all about controlling the breath. Double unders are significantly more challenging with a high heart rate. The better athletes are moving on the rope, the lower their heart rate will be. If athletes are proficient on double unders, looking to go unbroken here. If double unders are a difficult movement, breaking these up into 15-15 or 20-10 will lead to consistency across.
Competitor Extra – before or after class WOD
COMP: Snatch (Every 2-3 minutes)
60%/3

65%/2

70%/2

75%/2

80%/2

(85%/2 reps) x 3 sets
Focus on consistency and no misses today!
COMP: Snatch Pull ((105%/3 reps) x 4 sets)
Gymnastics Conditioning
Ring Muscle-ups:

3 sets × 80% of max unbroken set

rest :80 seconds between sets