Spark CrossFit – CrossFit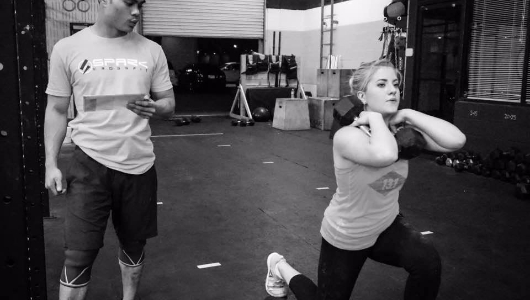 Warm Up and Skill
Warm-up (No Measure)
GENERAL WARM-UP (0:00-10:00)
2 Rounds
Jog 100 meters
30 seconds Pike Stretch
30 seconds Hands on Box Shoulder Stretch
15 Sit-ups
10 Goblet Squats
SKILL AND INSTRUCTION (10:00-17:00)
Toes to Bar Progression
*3-5 reps at each piece of the progression
TRANSITION AND SET-UP (17:00-25:00)
Partner up and build up in 2-3 sets of 3 reps in the Double KB Squat.
Workout
Metcon (Time)
With a partner
10 Rounds, alternating movements, for time:
6 Toes to Bar
10 Double KB Front Squat (53/35 lb KB/hand)
100 meter Sprint
*One person does 6 Toes to bar, 10 Front Squats, and a 100 meter run. Then the next person goes, that is one round…..each person will does 10 rounds
INTENDED STIMULUS
Fast paced sub 90 second interval efforts. All rounds should be unbroken.
Scaling Options (No Measure)
SCALING OPTIONS
1) Intermediate (Has trouble linking toes to bar and the load on the KBs could be too challenging for all unbroken and quick sets). Scale to 10 rounds:
3 Toes to Bar + 3 High Knee Raise
6 Double KB Squats (55/35 per hand))
100 meter Sprint
2) Novice (cannot handle the load and volume. Cannot do toes to bar)
7 Rounds
6 Toes to KB
10 Goblet Squat or Light Double DB/KB Squat
100 meter Run
Cool Down
Cool Down (No Measure)
55:00-60:00
Couch Stretch, 90 seconds per side
Roll Upper Back, 60 seconds