Spark CrossFit – CrossFit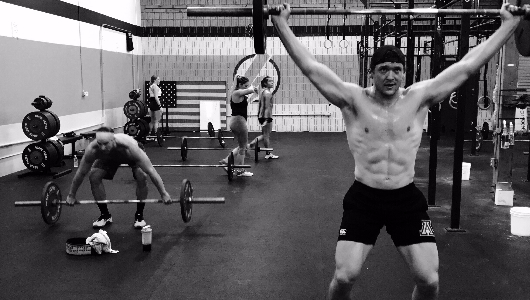 "Success is getting what you want. Happiness is wanting what you get." – B.R. Hayden
Class WOD
General Warm Up (No Measure)
2 Rounds

Row or Run 200 meters

then in place…

10 Lateral Lunges

10 Spidermans

10 Rollover V-sits

10 Air Squats
Thruster Progression (No Measure)
Coach will lead the class through both the power clean and a quick thruster progression. 3-5 reps of each progression.
31 Heroes (AMRAP – Rounds and Reps)
Advanced (RX+)

"31 Heroes"

In teams of 2, as Many reps as Possible in 31 minutes of:

8 Thrusters (155/105)

6 Rope Climbs

11 Box Jumps (30/24)
Continuous run with Sandbag or plate(45/25)
RX @ 115/75 thruster and 24/20 box jump
Scaled

-Reduce thruster load

-sub pull ups or ring rows for rope climbs

-reduce box jump height

-run without plate
Like the warriors of our armed services, this WOD is about working together, sacrificing yourself for your teammate, and accomplishing the mission together. Partner 1 performs the workout listed above. Partner 2 runs 400m with a sandbag (45/25). When Partner 2 returns from the run, Partner 1 will grab the sandbag, and begin their 400m run, while Partner 2 continues the workout where Partner 1 left off.
Cool Down (No Measure)
coaches choice!
Competitor Extra
Barbell Conditioning (Weight)
EMOMx9

3 Power Cleans + 3 Front Squats + 3 Push Jerks
205/145 is the original RX load for this, work with a weight that allows you to complete this complex in 20-30 seconds each round.