Spark CrossFit – CrossFit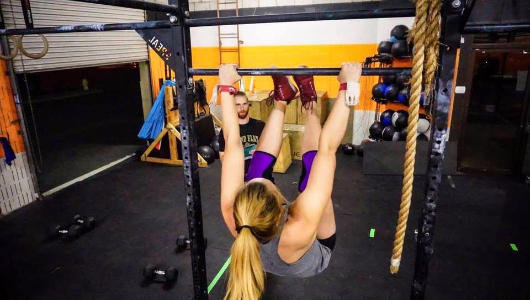 Warm Up and Skill
Warm-up (No Measure)
GENERAL WARM-UP (0:00-10:00)
1) 2 Rounds
10 Ring Rows
10 Push-ups
10 V-ups
10 Hip Extensions on GHD or band good mornings
10 PVC Overhead Squats
20 Seconds HS Hold
SKILL AND INSTRUCTION (10:00-17:00)
Push Jerk Progression
*Perform 3-5 reps at each progression
TRANSITION AND BUILD UP (17:00-27:00)
10 minutes to build up in weight on the push jerk and practice the scaling options for the rope climb.
Workout
(27:00-50:00)
Metcon (5 Rounds for weight)
Every 4 Minutes for 5 Sets
Push Jerk
2 Legless Rope Climbs
Rep Scheme for the Push Jerk is:
-Set 1 x 5 reps
-Set 2 x 4 reps
-Set 3 x 3 reps
-Set 4 x 2 reps
-Set 5 x 1 rep
*Increase loads each set. Record each sets weight.
INTENDED STIMULUS
Today is an upper body push and pull strength day. Build to make loads on the Push Press and work on doing the 2 Legless Rope Climbs as quickly as possible. If a legless rope climb is too easy start seated on the floor and keep legs in an "L" position throughout. The Push Press set and the Rope Climbs should not take longer than 2 minutes in any single 5 minute interval.
Scaling Options (No Measure)
SCALING OPTIONS
1) Push Jerk
For novice athletes do 5 reps on each set and allow no failed lifts.
2) Legless Rope Climb
If you cannot perform a legless rope climb you may perform a rope climb while using the legs doing 1-2 climbs each round.
If you cannot perform rope climb with legs, perform 2-3 lying rope pulls to standing position or 5 "leg wrap pulls on box".
Cool Down
(50:00-60:00)
Accessory Work (No Measure)
One Arm DB/KB Overhead Walk, 3×50 feet per arm
Banded Shoulder Stretch, 90 seconds per side.