Announcements
Classes will be cancelled this Saturday 6/17/17 as we are hosting Girls Gone WOD 4 here at the box. Be sure to come down and a watch the fun, event goes from 9am-3pm
Spark CrossFit – CrossFit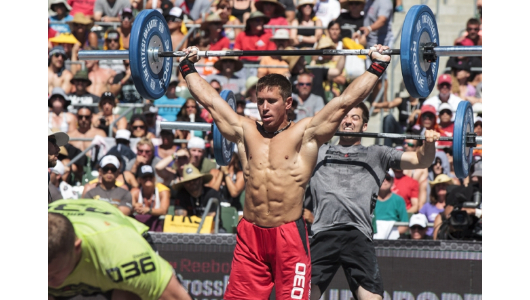 Warm Up and Skill
0:00-15:00
Warm-up (No Measure)
1) Stretch

Band Front Rack Stretch, 60 seconds/side

Deep Squat Hold, 60 seconds
2) 2 Rounds

75 Single Unders

3 Way Raise (7 reps/position)

30 second Deadbug

10 Front Squats (empty Bar)
SKILL AND INSTRUCTION (15:00-20:00)

1) Quick KB Swing Warm-up
TRANSITION AND BUILD UP (20:00-30:00)

Coach will go over the intended time and loading goals of this workout as well as the scaling options. Build up by doing:

3 Rounds

3-5 Swings

3-5 Box Jump Overs (increase height over the 3 rounds)

3-5 Front Squats (increase load over the 3 rounds)
Workout
30:00-45:00
Metcon (Time)
3 Rounds for time:

21 Swings (53/35)

15 Box Jump Overs (24/20″)

9 Front Squats (155/105)
INTENDED STIMULUS

This workout should have a fast pace throughout. The front squats should be challenging for 9 reps but unbroken each round. Faster athletes will be under 10 minutes and this workout should not exceed 15 minutes.
Scaling Options (No Measure)
SCALNG OPTIONS

1) Intermediate- This athlete should attempt this workout as rx'd, but if the front squat weight is too challenging to be done unbroken do:

3 Rounds

21 Swings

15 Box Jump Overs

9 Front Squats (115-135/75-85)
2) Novice

3 Rounds

15 Swings (light load)

12 Box Jump Overs (low height)

9 Front Squats (light load)
Accessory Work
45:00-60:00
Accessory Work (No Measure)
1) Pick one of the following, NOT for time:
*One person works while the other is resting.
-With a partner do a 400 meter Double KB Front Rack Walk.
-Heavy MedBall Carry 2×100 meters
-KB Zercher Carry, 1×400 meters
-Light Medball Carry, 1×400 meters
2) Roll Upper Back, 60 seconds