Spark CrossFit – CrossFit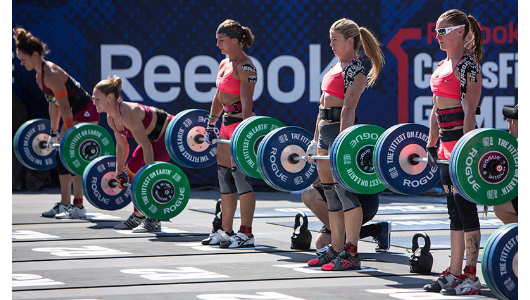 Warm Up and Skill
Warm-up (No Measure)
GENERAL WARM-UP (0:00-8:00)
1) 2 Rounds
1 minute single unders
10 Rollover V-Sits
15 Good Mornings
30 second Deadbug
SKILL AND INSTRUCTION (8:00-13:00)
Deadlift Progression
TRANSITION AND BUILD UP (13:00-25:00)
Build up to opening deadlift weight doing 4-5 sets of 2-3 reps.
Workout
Workout (25:00-45:00)
Deadlift
2-2-2-6-12
(20:00 clock)
Recording heaviest 2, the 6 rep set and the 12 rep set
INTENDED STIMULUS
Heavy to moderate heavy loaded deadlifts with a varied rep scheme. Run a set every 4 minutes. Loading parameters are as follows:
Set 1: Challenging for 2 reps but allows for a build up for the next 2 sets.
Set 2: 10-20 lbs heavier than set 1 based on how challenging the first set was.
Set 3: Very heavy and near maximal which should be a 10-20 lb increase from set 2.
Set 4: This will be a little bit of a guess as to what load to use but should be approximately 80-85% of the heaviest set of 2.
Set 5: This should be challenging for 12 reps. 70% of the 2RM for the day is a good guideline.
SCALNG OPTIONS
None. If someone cannot do deadlift correctly, raise the load on plates or blocks so that they can maintain good mechanics.
Deadlift
Deadlift
Deadlift
Accessory Work
Accessory Work (No Measure)
Workout, part 2 (45:00-60:00)
Prowler Push or Sled Drag
3-5 sets of 20 meters (down and back the length of the rig)
*Can also do plate pushes on the floor with steel plates
INTENDED STIMULUS
To options for the day. Use a medium load and sprint as quickly as possible or use a heavy load that is challenging for 10 meters unbroken.
SCALING OPTIONS
None, have fun. Newer athletes should focus on moving a moderate load quickly vs moving a heavier load slowly
Cool Down
Cool Down (No Measure)
Roll out quads, glutes and lower back x 90 each