Announcements
Get signed up for the Spark Hero Challenge starting on July 10th. Only $49 for current members! Registration closes on the 9th. http://sparkherochallenge.com/
Spark CrossFit – CrossFit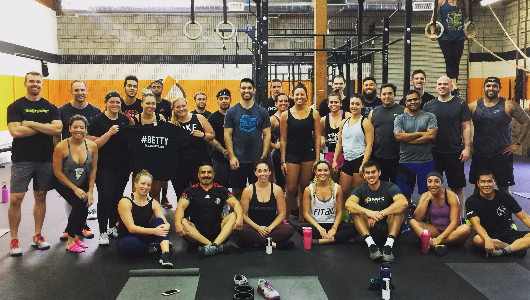 "I don't measure a man's success by how high he climbs but how high he bounces when he hits bottom." – George S. Patton
Warm Up and Skill
Deadlift Warm-up w/ Progression (No Measure)
GENERAL WARM-UP (0:00-12:00)

1) 2 Rounds

25 Foot Lateral Lunge

25 Foot Inchworm

25 Foot Spiderman

15 Good Mornings w/ PVC

5 Beat Swings + Stop

*Stop on each swing
SKILL AND INSTRUCTION (12:00-18:00)

Deadlift Progression

*5-7 reps at each piece of the progression

-setup

-mid-shin to knee

-knee to hip

– reverse back down to mid shin
TRANSITION AND BUILD UP (18:00-30:00)

3 sets

Deadlift x 3-5 reps

Wall balls x 5-7 reps

*build up to today's working weight over these sets
()
Workout
Optimus Prime (AMRAP – Reps)
"Optimus Prime"

AMRAP 7: Wallballs (20/14)

At the end of each minute: 5 Deadlifts
*Score as number of wall balls completed.

**Start with wall balls, at the 1 minute mark stop and do 5 deadlifts before continue to do wall balls, then repeat at each minute thereafter. No deadlifts at the 0:00 minute or the 7:00 minute marks.
Advanced (RX+) – Wall balls @ 20/14, Deadlifts at 225/155 (do not scale up wall ball weight today, go for reps)
RX – Wall balls @ 20/14, Deadlifts at 185/125
Novice/Scaled – Reduce Wall Ball and deadlift weights to allow you to keep moving without being stopped by too heavy of a load.
INTENDED STIMULUS

Lower body demanding high rep workout with a pull/push element. Top scores will be in the 130+ range of total wall balls.
Partner AB/Row 7617 (Time)
In teams of two, Assault Bike or Row:
Advanced(RX+): 480/360 calories alternating sets of 20/15
RX: 384/288 Calories alternating sets of 16/12
Scaled/Novice: 300/200 Calories by alternating 1:00 each on the rower until you reach the total
(30:00 Time Cap)
Cool Down
Cool Down (No Measure)
Coaches Choice