Spark CrossFit – CrossFit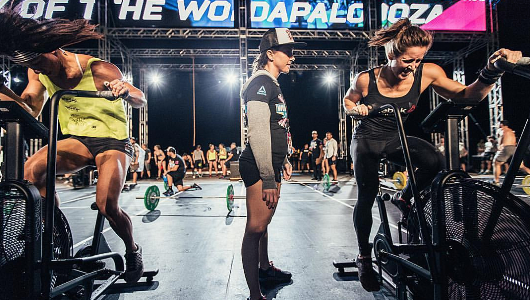 "Patience, persistence and perspiration make an unbeatable combination for success." – Napoleon Hill
Class WOD
Line Drill Warm Up (No Measure)
200 Meter Run
then
Line Drills:
Soldier Kicks
Quad Stretch
Walking Samson Stretch
Walking Spidermans
Side Lunge
Side Shuffle (facing in)
Side Shuffle (facing out)
Bear Crawl
Crab Walk (forward)
Straight Leg Bear Crawl
Crab Walk (backwards)
KB Swing Progression (No Measure)
KB Swing Progression
*5 reps at each piece of the progression
With a lighter kettlebell than being used in today's workout, lets start to warmup this movement pattern. Do two rounds with increased weight on the second round. Have athletes place down kettlebell between each movement.
5 Deadlifts
5 Hip Pops (load back and squeeze glutes)
5 Russian Swings
5 Full Swings
Transition & Build Up (No Measure)
Focus here is to practice efficiency of movement and breathing. Breathing at the top of each swing and burpees will make the workout much more manageable.
2 rounds:
5 Kettlebell Swings
5 Burpees
7/5 AB Cals or 100m Run
"Ring the Bell" (KB/Burpee/Bike) (Time)
27-21-15-9
Kettlebell Swings
Burpees
Assault Bike Calories (Ladies 21-15-9-6)
INTENDED STIMULUS
This workout rewards efficient movement. The better athletes can move through and breathe through kettlebell swings and burpees, the quicker they will get done. In today's triplet, we are looking for a heavier load on the kettlebell, but a weight that athletes could complete a max effort set of 30+ repetitions when completely fresh.
RX+ @ 70/53
RX @ 53/35
Scaled @ reduce weight (rower is an option here in bigger classes)
In bigger classes partner athletes up on bikes and stagger start so athlete 2 starts about 2 Minutes in.