Spark CrossFit – CrossFit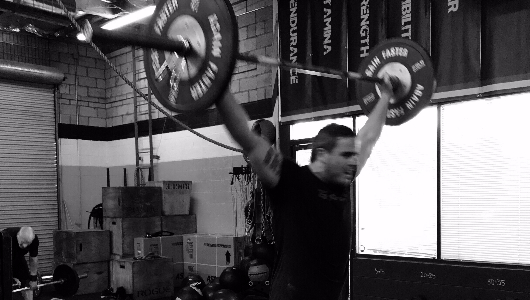 "If you don't make mistakes, you're not working on hard enough problems." – Frank Wilczek
Class WOD
3:00 row, bike, run, or jump rope (No Measure)
3:00 row, bike, run, or jump rope
Deadlift Warm-up w/ Progression (No Measure)
GENERAL WARM-UP (0:00-12:00)
1) 2 Rounds
25 Foot Lateral Lunge
25 Foot Inchworm
25 Foot Spiderman
15 Good Mornings w/ PVC
5 Beat Swings + Stop
*Stop on each swing
SKILL AND INSTRUCTION (12:00-18:00)
Deadlift Progression
*5-7 reps at each piece of the progression
-setup
-mid-shin to knee
-knee to hip
– reverse back down to mid shin
Transition & Build Up (No Measure)
Take 6-8 Minutes to setup and build up to todays working weight, get out equipment and find a bike or rower
Workout
"Ball and Chain" (Time)
2 Rounds:
25 Deadlifts (185/135)
50 Wall Balls (20/14)
50/35 Assault Bike or 1000m Row
(25:00 time cap)
————-
INTENDED STIMULUS
By themselves, each one of these movement are fairly manageable tasks. However, that second round can be more of a challenge if the first round is not attacked properly. Think about breaking these up in round one.