Spark CrossFit – CrossFit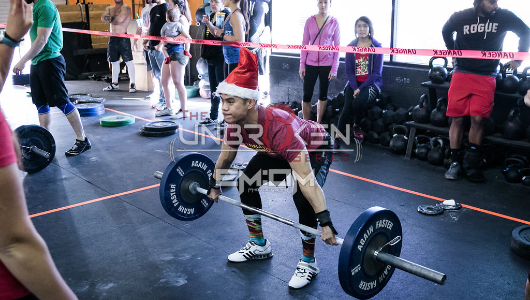 Warm Up and Skill
Overhead Warmup (No Measure)
GENERAL WARM-UP (0:00-15:00)
1) 2 Rounds
25 Foot Spiderman
25 Foot Toy Solider
25 Foot Lateral Lunge
5 Kip Swings + Pull or Pull-up
30 second Hands on Box Shoulder Stretch
2) Burgener Warm-up (this will teach the OHS)
*Video and points of performance are attached.
**7-10 reps at each piece of the progression
TRANSITION AND BUILD UP (15:00-25:00)
3 Rounds
3 Pull-ups or Chest to Bar Pull-ups
3 Overhead Squats (increase loads each round)
3 Burpees Over Bar
Workout
Workout (25:00-37:00)
23417 C2B/OHS/Burpee (Time)
6-9-12-9-6
Chest to Bar Pull-up
Overhead Squat (155/105)
Burpees Over the Bar
INTENDED STIMULUS
The goal is sub 10 minutes without exceeding 15 minutes. The load is moderate and there will be a fair amount of shoulder fatigue with these movements being combined together.
Scaling Options (No Measure)
SCALING OPTIONS
1) Intermediate (OHS load is to heavy to do the first set of 9 unbroken relatively quick and the volume of chest to bar pull-ups may slow the athlete down too much)
-Keep pull-ups at 6 reps across all rounds and adjust Overhead Squat load to 115/75 and keep it at the rx'd rep scheme.
2) Novice
5-7-9-7-5
Band Assisted Pull-up (preferably chest to bar)
Overhead Squat (load doable unbroken for the first sets of 5 and 7
Burpees Over the Bar
Gymnastics
TRANSITION AND CLEAN UP (37:00-45:00)
Put stuff away and coach will demo the gymnastic skill session/scaling options
Gymnastics Work (No Measure)
Gymnastics Skill (45:00-55:00)
8 x :30/:30 Intervals
H1- 20-30 second Handstand Hold
H2- 20 second Hollow Hold
*If you cannot hold a handstand, hold a DB in each hand overhead