Announcements
Get signed up for the Spark Hero Challenge starting on July 10th. Only $49 for current members! Registration closes on the 9th. http://sparkherochallenge.com/
Spark CrossFit – CrossFit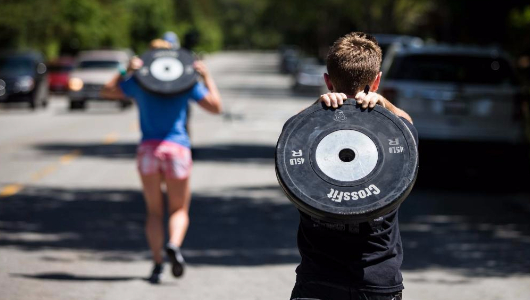 Warm Up and Skill
()
GENERAL PARTNER WARM-UP (not just for partner wod days) (No Measure)
400m Run with Wall Ball Carry (partners share carrying one ball)
Use light wall ball with Running clock, Partner Medicine Ball Warmup:

30 sec Medicine Ball Twist

30 sec medicine ball twist opposite direction

30 sec med ball sit up with ball overhead

30 sec med ball thruster pass

30 sec roll to potty shot (partner 1)

30 sec roll to potty shot (partner 2)
GENERAL WEIGHTLIFTING WARM-UP FOR CLEAN (No Measure)
5x Dip & shrug

5x Dip, shrug, scarecrow

2x 10 sec each side Front Rack Stretch with Barbell

5x Muscle Clean from Knee

5x Front Squats

2x Hang Clean from Hip to each depth

2, 4, 6 inches & Full depth
Workout
1775 (AMRAP – Rounds and Reps)
In celebration of the founding of the United States Army on June 14, 1775, and in honor of its soldiers and their unwavering dedication to national defense.

https://www.crossfit.com/workout/2016/06/14#/comments
"1775"

AMRAP 60 minutes:

17 Power Cleans (135/95)

75 Squats
Unload the barbell and then carry it 200 meters away.

Return to the plates and then carry one forward to the barbell.

Retrieve the second plate, carry it forward to the barbell and reload the barbell for the next round.
***Can be done solo (RX+) or with a partner (RX). Bring sunblock and a towel to put on your barbell to keep it cool in the sun!
INTENDED STIMULUS

Long duration hero workout. This is actually a good mix of some low intensity work with the carries mixed in with some higher intensity work with the cleans and squats.
SCALING

1) Intermediate

Attempt as rx'd today, even if the pace if very slow.
2) Novice

The scales are to: 1) decrease the time to as little as 30 minutes as well as the load on the cleans and reps on the squats for newer or de-conditioned athletes to loads/reps that allow for a consistent pace without much struggle. Option 2) Scale to a partner or 3 person team workout as such:

AMRAP 45-60 minutes

In teams of 2:

Accumulate 17 Power Cleans (one person works at a time)

Accumulate 75 Squats (one person works at a time)

Strip the plates and carry the barbell 200 meters sharing the carry as needed.

Return back to the plates and each person carries a plate to the barbell.