Spark CrossFit – CrossFit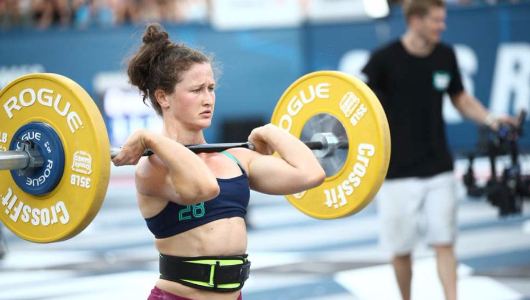 "We get what we want when we stay focused and do the work." -Barbara Lucas
Class WOD
Quick Partner Row Warmup (No Measure)
Partnering up on a rower, switching back and forth between:
:45 seconds slow row (feet on top of straps)

:45 seconds active spidermans
:30 seconds slow row

:30 seconds active samson
:20 seconds medium row

:20 seconds air squats
:15 seconds hard row

:15 seconds push-ups
Barbell Warmup (No Measure)
5 Good Mornings

5 Back Squats

5 Elbow Rotations

5 Strict Presses

5 Stiff-Legged Deadlifts

5 Thrusters

(completed with empty barbell)
Movement Prep Mobility (No Measure)

Front Rack Stretch – 1:00

Laying on your chest, place our elbows out in front, arms bent at 90 degrees. The goal is to close the gap between the armpits and the floor, which will stretch the lats, shoulders, and triceps.
Couch Stretch – 1:00 each side
Transition & Build Up (No Measure)
Warm up for todays metcon with a couple rounds of:

5 Calorie Row

5 Erg Burpees

5 Thrusters
Workout
CLASS: "Freedom Trail" (4 Rounds for reps)
As Many Reps as Possible in 3 Minutes of:

21/15 Calorie Row

21 Burpees over Rower

Max Thrusters in remaining time (75/55)
-Rest 3:00-
AMRAP 3

18/12 Calorie Row

18 Erg Burpees

Max Thrusters (95/65)
-Rest 3:00-
AMRAP 3

15/10 Calorie Row

15 Erg Burpees

Max Thrusters (115/80)
-Rest 3:00-
AMRAP 3

12/8 Calorie Row

12 Erg Burpees

Max Thrusters (135/95)
Larger classes will have to partner up on rowers for this WOD. At the start of each round the "buy-in" is one set of rowing and one set of burpees. In the remaining time complete as many thrusters as possible. Scoring the reps of thruster in each round.
Advanced & RX @ As Written
Scaled @

-Reduce reps of each interval to 18-15-12-9 or 15-12-9-6

-Keep thruster weight light and the same for all rounds.
Cool Down
3 Way banded Shoulder Cool Down (No Measure)
45 second for each arm for each position:

Lat Stretch

Front Rack Stretch

Cross-body Stretch
If time permits class with finish with rolling out glutes and lower back, if not, do this on your own after class today.
Competitor Extra – before or after class WOD
EXTRA: Barbell Conditioning (Weight)
EMOMx6

3 Power Cleans + 3 Front Squats + 3 Push Jerks
Recommended weight is @ 155/105 but reduce if necessary to keep the work sets unbroken and at around :30 per round.