Spark CrossFit – CrossFit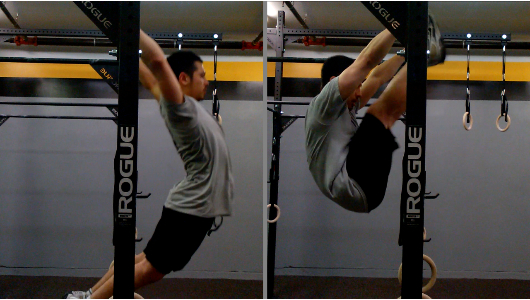 "If you want to make an easy job seem mighty hard, just keep putting off doing it." – Olin Miller
Class WOD
Warm-up (No Measure)
Row 500m or Bike 1 Mile
Shoulder Prep Warm-up 1 (No Measure)
10 Arm circles Front (small to big)
10 Arm Circles Back (small to big)
10 Side to Side Arm Swings
10 Criss Cross Arm Swings per side
10 Up and Back Arm Swings
5/5/5 PVC Pass Through (5 wide, 5 medium, 5 narrow)
10 Reverse Grip Pass Through
20 Band Pull aparts
15 Scap Retractions on Bar
15 Ring Rows
15 Box or Bench Dips
10 Kips on Bar (go from small to big)
Thruster Progression (No Measure)
Coach will lead the class through both the power clean and a quick thruster progression. 3-5 reps of each progression.
-power clean
-front squat
-push press
-thruster
Toes to Bar Progression (No Measure)
Coach will demo and talk about the T2B Point of Performance
Chest Through, Heels Back on Kip
With a high number of repetitions today, efficiency definitely matters. What happens when the heels don't reach very far back and the chest doesn't come all the way through, it puts a lot of strain on the abdominals. Pulling the chest through and bringing the heels back with straight legs creates solid tension throughout the body and takes extra strain off the core.
CLASS: "Machine Gun Blues" (3 Rounds for reps)
As Many Reps as Possible in 4 Minutes of:
24/18 Calorie Row
21 Toes to Bar
Max Thrusters in remaining time (75/55)
-Rest 4:00-
AMRAP 4
21/15 Calorie Row
18 Toes to bar
Max Thrusters (95/65)
-Rest 4:00-
AMRAP 4
18/12 Calorie Row
15 Toes to Bar
Max Thrusters (115/80)
Larger classes will have to partner up on rowers for this WOD. At the start of each round the "buy-in" is one set of rowing and one set of toes to bar. In the remaining time complete as many thrusters as possible. Scoring the reps of thruster in each round.
Advanced @ Assault Bike
RX @ As Written
Scaled @
-Hanging Knee Raise or Toes to Pole
-Reduce reps of each interval to 15-12-9 or 12-9-6
-Keep thruster weight light and the same for all rounds.
Competitor Extra – before or after class WOD
Gymnastics Conditioning (Time)
15 HSPU
rest 1 min
12 HSPU
rest :45
9 HSPU
rest :30
9 HSPU
rest :15
6 HSPU
RX+ @ Strict HSPU
Focus on getting through each set of HSPU as quickly as possible. Be smart and break up sets to avoid going until failure.