Spark CrossFit – CrossFit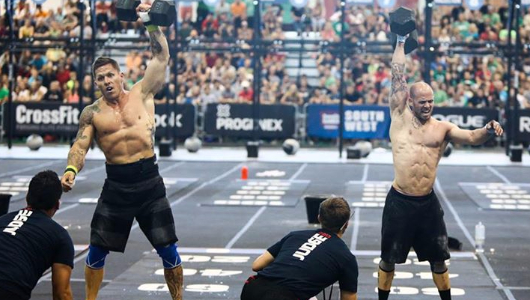 "Success is the sum of small efforts, repeated day in and day out." – Robert Collier
Partner warmup bike / row/ lower body (No Measure)
With a partner, alternate each station
1 Minute
Partner 1 – Easy Bike
Partner 2 – Active Spidermans
*switch
:45 Seconds
Partner 1 – Medium Bike
Partner 2 – Active Samson
*switch
:30 Seconds
Partner 1 – Faster Bike
Partner 2 – Air Squats
Dumbbell Warmup (No Measure)
(completed with light dumbbells)
5 Stiff-Legged Deadlifts
5 Front Squats
5 Strict Presses
5 Reverse Lunges (each leg)
5 Strict Presses
5 Front Squats
5 Stiff-Legged Deadlifts
Mobility (No Measure)
Pigeon Pose – 1:00 Each Side
From a pushup position, sweep one leg beneath your body. Let's use the right as an example. With your right leg beneath your body, aim to adjust your shin so that it is perpendicular to your torso – in other words, horizontal in relation to where your torso is facing. Slowly imagine sinking your waist back and down to the floor as you feel the stretch in the outside of your hip.
Childs Pose – 1 Minute
With arms together and straight out front, have athletes sit back onto their legs while dropping the chest and head towards the ground. Relaxing as much as possible and focusing on breathing will deepen the stretch.
Teaching (No Measure)
Coach will go over the points of performance for today's skill movements, the wall ball, t2b, and DB snatch.
Focal points on DB Snatch
Zip the Coat
It is common on the dumbbell snatch for the bell to swing out and away from the body, Pretending to zip up the jacket of a coat will help keep the weight close to the body. The closer the weight is to the body is, the lighter it will feel.
Punch Up
Following the "zipping of the coat", want athletes to punch up hard into the dumbbell. Sometimes the elbows get relaxed and the dumbbell has to be pressed out to end range. An aggressive punch up will ensure the dumbbell is received with a lockout out elbow on each repetition.
Movement Prep
Perform with 1-Arm, then switch.
5 Deadlifts
5 Deadlift + Shrug
5 High Pulls
5 Dumbbell Snatches
Transition & Build Up (No Measure)
1 Round (with light weight)
6 Calorie Bike/Row/100m Run
5 Wall Balls
4 Dumbbell Snatches
3 Toes to Bar
then
1 Round (with workout weightweight)
6 Calorie Bike/Row/100m Run
5 Wall Balls
4 Dumbbell Snatches
3 Toes to Bar
CLASS: "Eighteen Wheeler" (AMRAP – Rounds and Reps)
AMRAP 18:
18 Calorie Row or 12 Calorie Bike or 200m run
15 Wall Balls (20/14)
12 Alternating Dumbbell Snatches (50/35)
9 Toes to Bar
INTENDED STIMULUS
Name of the game today is pacing. Pacing isn't about going slow, rather finding a pace that athletes know they will not slow down. Setting the tone in round one by approaching it like the third round. If athletes expect to break the wall balls or toes to bar in round three, breaking them like that from the onset will help athletes find a consistent pace across the 18 minutes.
Stretchy Cool Down (No Measure)
-Lizard R/L :30 each side
-Pigeon R/L :30 each side
-cobra :30
-childs pose :30
-downward facing dog :30
-thread the needle R/L :30
-hold scorpion R/L :30
-hold squat :30
Competitor Extra – before or after class WOD
COMP: Barbell Conditioning for Time (Time)
For Time:
10 Power Snatches @ 60%
8 Power Snatches @70%
6 Power Snatches @ 80%
4 Power Snatches @ 85%
2 Power Snatches @ 90%
COMP: Push Press (Every 2-3 minutes)
Heavy set of 5
Heavy set of 4
Heavy set of 3
Heavy set of 2
Heavy set of 1
COMP: Gymnastics Conditioning (5 x 10 Unbroken Chest to Bar Pull-Ups)
If they can't be done unbroken then record lowest set of all 5 attempts
Rest as needed between sets