Spark CrossFit – CrossFit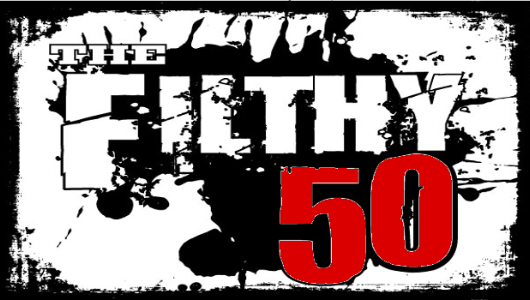 Warm-up
Tabata Jump Rope Warm-up (No Measure)
1-singles

2-side to side

3-in and out

4-one foot at a time

5-high knees

6-butt kickers

7-dubs

7-dubs or triple attempts
Down and Back Warm-Up (No Measure)
These movements down and back:

1-High Knees

2-Butt Kickers

3- Karoake
These movements one way:

1-spiderman

2-solders

3-super marios
Once you are down with his part of the warm up we will get equipment out and go through 5 of each movement in filthy 50 together back to back as a class.
Workout
Filthy Fifty (Time)
For Time:
50 Box jumps, 24″
50 Jumping pull-ups
50 Kettlebell swings, 1 pood
50 steps Walking Lunge
50 Knees to elbows
50 Push press, 45#
50 Back extensions
50 Wall ball shots, 20#
50 Burpees
50 Double unders
(35:00 time cap)

For back extensions we will do Supermans today.
For Jumping pull ups you will pick a pull up bar that is at the crease of your wrist when standing arms and legs fully extended. Use plates to get the height just right so you can get some assistance from your legs.
INTENDED STIMULUS

A benchmark test that is a long duration and light loaded chipper. Top times will actually be less than 20 minutes. Ideally, athletes will perform all movements and take no longer than 30-35 minutes.
Scaling Options (No Measure)
SCALING OPTIONS

1) Intermediate

30 Box Jumps

50 Jumping Pull-ups

50 Swings

50 Walking Lunges

30 Knees to Elbows or High Knee Raise

50 Push Press

50 Back Extension or Good morning

30 Wall Ball

30 Burpees

50 Single Under or Double Unders
2) Novice

"Dirty 30" or "Twisted 20"

20-30 Box Jumps or Step-up

20 or 30 Jumping Pull-ups

20 or 30 Swings

20 or 30 Walking Lunges

20 or 30 Hanging Knee Raise

20 or 30 Push Press

20 or 30 Back extension

20 or 30 Wall Ball

20 or 30 Burpee

20 or 30 Double Unders or Singles
Cool Down
Cool Down (No Measure)
Lat. Stretch, 90 seconds each arm

Quad Roll, 90 seconds per leg