Spark CrossFit – CrossFit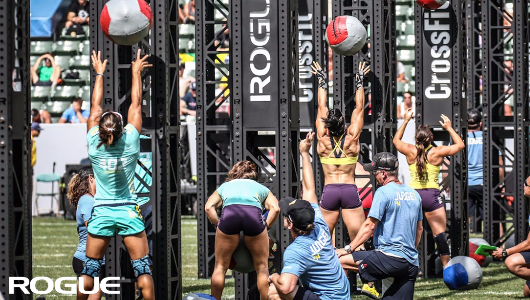 "Life is 10% what happens to you and 90% how you react to it." – Charles R. Swindoll
Warm Up and Skill
Warm-up (No Measure)
(0:00-15:00)
1) Joint Prep Routine
2) 2 Rounds
10 Low Box Jumps
5 Med Ball Goblet Squat + 5 Wall Ball Shots
1 minute easy Row/Bike/Jump Rope
TRANSITION AND BUILD UP (15:00-20:00)
Partner up and set-up for the workout to make the best use of equipment. This should be quick as the movements are already involved in the warm-up.
Workout
Metcon (3 Rounds for reps)
Workout (20:00-45:00, including clean up)
5 Rounds
1 minute Box Jumps
1 minute Wall Ball Shots
1 minute Row Calories
1 minute rest
Advanced (RX+) @
30/24 inch box
30/20 lb ball
RX @
24/20 inch box
20/14 lb ball
Novice/Scaled
Reduce box height
Reduce ball weight
INTENDED STIMULUS
High rep workout that is very lower body demanding. Try to maintain a consistent rep/calorie count for each movement throughout the duration. Top scores will be over 20 reps on the box jumps and wall ball shots and over 15/12 calories on the rower.
Accessory Work
Accessory Work (No Measure)
*Try to complete all reps consecutively without rest
Advanced
2 Rounds NOT for time:
10 Strict toes to bar
10 Supermans
10 Hollow rock
10 Slider Leg Curls
RX
2 Rounds NOT for time
10 Strict High Knee Raise
10 Supermans
10 Hollow Rock
10 Slider Leg Curls
Novice/Scaled
10 Strict Hanging Knee Raise or Toes to KB
10 Supermans
10 second Hollow Hold
10-15 Band Leg Curls
INTENDED STIMULUS
Core and posterior chain accessory work. Focus on quality of movement
SCALING OPTIONS
1) Advanced- scale up the slider leg curls to Hip Extension to Glute Ham Raise