Spark CrossFit – CrossFit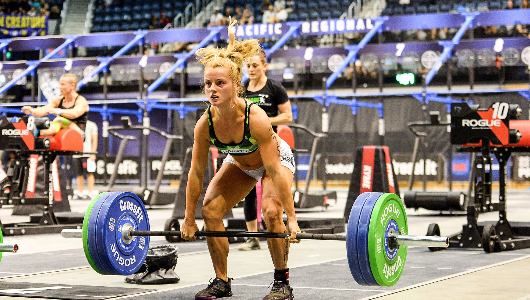 "Never leave that till tomorrow which you can do today." – Benjamin Franklin
Class WOD
Jump Rope Warm-up (No Measure)
Tabata Jump Rope Drill Set #1- 8 intervals.
1- Singles
2- Side to Side bunny hop
3- Alternating legs
4- In and out
5- High knee
6- Butt Kickers
7- Double Under
8- Double Under or Triple Under
*Go through the series 1 time. Spending 20 seconds at each movement and resting 10 seconds between movements
Joint Prep Warm up (No Measure)
10 x each
-Neck right & left
-Neck up & down
-Neck crescent
-forward shoulder rolls
-backward shoulder rolls
-arm circles forward (getting bigger)
-arm circles backward (getting bigger)
-crossbody hugs
-trunk twist
-hip circles
-knee circles
-ankle circles
-leg swings forward and back
-leg swings side to side
-air squats
Transition & Build Up (No Measure)
10 Minutes to Build up to todays first working weight of 90% of 1RM for todays strength work.
Workout
Back Squat (Every 3 Minutes for 4 Sets)
Set 1 – 90% x 2
Set 2 – 95% x 2
Set 3 – 98-100% x2
Set 4 – 98-100% x2
This is the final week of our squat cycle before we retest our 1RM. Today we are aiming for a weight equal to or the same as our previous 1RM for a double. This will be challenging so take it one rep at a time and aim for no misses as we gear up for new maxes.
CLASS: "Walking Dead" (AMRAP – Rounds and Reps)
AMRAP 15
60 Double Unders
150 ft Walking Lunge Steps (unweighted)
15 Deadlifts
INTENDED STIMULUS
Finding a consistent breakup strategy on the deadlifts and the jump rope will help in maintaining a similar pace from round to round. While athletes should be able to do 20+ repetitions at this weight, breaking the deadlifts up into 2-3 sets with a short break will ensure a quicker transition and larger sets on the rope.
RX+ @ 225/155
RX @ 185/135
Scaled
-75 single under
-reduce DL weight
Lower Body Cool Down (No Measure)
Couch x :60/side
Frog x :60
Forward Fold x :60
Foam Roll Hamstring & Quads x 90-120 Seconds